Welcome to My Ultralight Home Page!
I belong to an Ultralight Aviation club called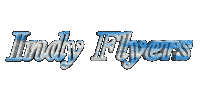 based out of Westfield, Indiana. This website has information about this club, and ultralight flying in general. Visit the club's official website here: http://members.home.net/dean.batman/indyfly.html
I am constantly working on this website so visit often!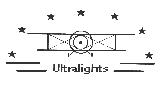 Club 060
Meet the club Officers and Members
Here is a proposed design for a squadron patch for the club:

What do you think?
Come to our meetings! Held every second Wednesday of the month at 1930 hours (7:30 PM) October through April and 1830 hours (6:30 PM) May through September. We meet in the clubhouse at Wheeler's Westfield Airport (I72) 18036 Dartown Road Westfield, Indiana 46074. Coordinates: 40° 02.940"N - 86° 09.470W. Membership dues are only $15 a year due July 1.
Come back often and visit!
---
Current weather information for Indianapolis:

---
Indy Flyers, Inc. is an Aero Sports Connection affiliated, non-profit, educational club, dedicated to the sport of recreational Ultralight Vehicle flying. Fly Safe!

For comments, suggestions, or information, contact the Webmaster.
Updated: Thursday July 13, 2000